Services Description BIOCLEANER Green Patent Technology for WWTP & STP
PLEASE FILL OUT THE SURVEY FORM HERE
Price : Based on processing capacity, water source, processing target
Data : By survey form
BioCleaner is a new patented technology for microbial remediation it can clean sewage and waste water up to Biological Oxygen Demand (BOD) and Chemical Oxygen Demand (COD) to non detectable.
BioCleaner uses high tech US patented technology to treat all organic waste. The Detox Culture Repository where ABS holds it's microbes has over 11,000 Biosafetly level 1 microbial isolates. Specific microbes are chosen to treat the specific waste. According to the US Center for Disease Control and Prevention (CDC), the microbes we use are Biosafety level 1 meaning if a healthy human ingests it will not do any harm. In fact some microbes are beneficial for humans. The microbes used are indigenous to the country and will not cause any harmful outbreaks. The microbes are all-natural and are not genetically modified. There is no risk of the microbes mutating from its original form.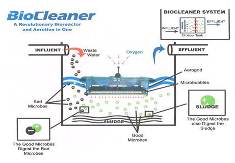 How is the BioCleaner different from other systems that use microbes?
BioCleaner is much more efficient than other biological systems; it is an entire treatment system. Other microbes such as efficient microorganisms (EM) are in the form of powder or liquid. This needs to be applied regularly and microbes need to be bought regularly. EMs are not as efficient because the microbes are washed out, which is why new microbes need to be used. Furthermore, other microbes such as EM do not digest sludge waste. With the BioCleaner, microbes are constantly being produced and oxygen is being injected to ensure the microbes are given the right conditions to flourish; this makes the system more efficient.
What is the capacity of 1 BioCleaner?
A BioCleaner can treat 100 cubic meters of domestic waste at BOD5 300mg/L to 50mg/L given that there is at least 12 hours of Hydraulic Retention Time (HRT). For a 16-4-4 system, one (1) BioCleaner can treat domestic waste from BOD5 300mg/L to 20mg/L.
Advantages :
Smaller foot print or land use
Flexibility in relocation
Environment independent
Low maintenance cost
No odor
No sludge handling
No chemical usage
Can treat even to recycling

Visit our YouTube channel, PT Zefa Valindo Jaya, to see Biocleaner project at PT Darya Varia Laboratoria's Waste Water Treatment Plant.
Send Your Enquiries to PT. Zefa Valindo Jaya
Please Fill Your Security Code:

---